CID and Bamangola police recovered snake venom worth crores of rupees in a bulletproof glass jar made in France. Police have arrested two people of the trafficking ring in this incident. On Friday, Bamangola police and CID arrested the two smugglers along with a four-wheeler from the Pakuahat petrol pump area. A bulletproof jar containing 600 grams of snake venom was recovered from the victims. The current market value of which is around one crore, according to the police.
According to police sources, the two arrested traffickers are Mohammad Kalam alias Alam Miah (32) and Mosfiq Alam (29). The houses of the two arrested are in Chanddara area of ​​Gangarampur in South Dinajpur district. They were secretly coming to Malda from Gangarampur to smuggle snake venom by car. But the police and CID officials of Bamangola police station stopped the vehicle near the white Pakuahat petrol pump.  Police found 600 grams of snake venom in a glass jar from the car .
Now the container in which the snake venom was stored was a bulletproof glass jar. That glass jar has a sticker that says "Made in France". A code number is also given. Police and CID officials initially speculated that the jar was probably made in France.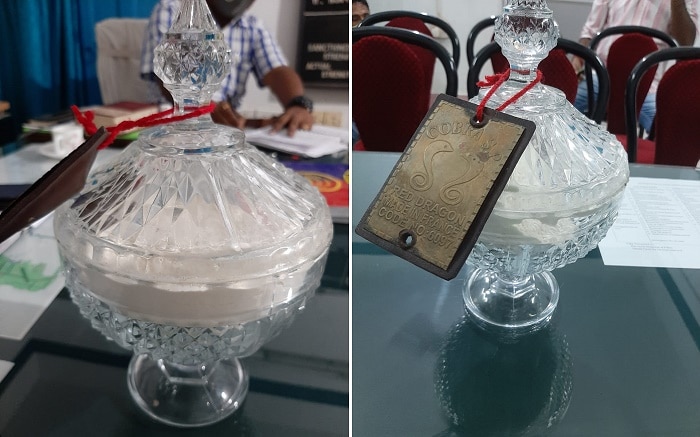 Police and CID officials have launched an investigation into how such high quality jars came to the smugglers and where they procured such a large quantity of snake venom. After interrogating the detainees, the police came to know that the a type of powder was made from the  liquid venom of snake. The suspects had planned to smuggle the poison across the border.It has been known that this type of powder snake venom is a valuable drug. Which has international demand. This powder is also used to increase sexual arousal.
Police are trying to find out if there is any connection between these traffickers and the international trafficking . The car was also seized. According to the police, a large quantity of snake venom was also recovered from Malda Kaliachak in the last one and a half years.
Also Read | One Of India's Biggest "Drug Smugglers" Associated with 532 Kg Heroin Haul Case Arrested in Haryana